Mahaparinirvan Express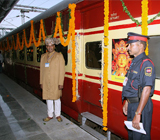 Mahaparinirvan Express is one of the special tourist trains of India, and run and managed by the Indian Railway Catering and Tourism Corporation. Introduced to mark the 2550th year of Mahaparinirvana (salvation) of Lord Buddha-the founder of Buddhism, the train is modeled on the famous luxury train of India, the Palace on Wheels.
The Mahaparinirvan Express has the same coaches as used by the Rajdhani Express. It takes the tourists on an interesting tour to some of the most famous and important Buddhist spots of India such as Bodh Gaya, Nalanda, Rajgir, Varanasi, Sarnath, Kushinagar, Lumbini, and Sravasti.
On a Eight-day / Seven-night journey, this fully AC train starts from New Delhi and returns back to the capital after an interesting tour to the various Buddhist destinations mentioned above. Agra is included in the itinerary.
In the Mahaparinirvana sutra, the Buddha tells his followers that they can attain merit and a noble rebirth by going on pilgrimage to the places where he was born (Lumbini), gained enlightenment (Bodhgaya), first taught (Sarnath), and attained Nirvana (Kushinagar).
Buddhism, one of the world's great religions, traces back with the life of Siddharth when a curious wandering prince from the small Shakya Kingdom located at the foothills of the Himalayas in Nepal, began his quest for the ultimate truth to solve the mystery of existence. He renounced his royal pleasures and meditated beneath the sacred Bodhi tree at Gaya for years before he attained spiritual enlightenment.
Come, discover the path to enlightenment with the Buddhist Circuit Special Train.